By Keith Lee, Associate Pastor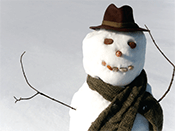 It has been awhile since we had a snow storm in our area so when it descended on Jan 12, I was caught off guard. But after struggling through it while being stuck in my house for almost three days I came to realize it was quite a spiritual experience.
Life is Unpredictable
Weather forecasters were not helpful in preparing for the storm. Some said it was going to be heavy while others thought it might just pass over. Even the ones who called for snow hedged, saying it could be a couple to eight inches. I'm reading this and thinking "You guys are NOT helpful at all!"
Moreover, the snow came on the weekend. As a pastor, anything that interferes with Sunday worship stirs anxiety and frustration. Therefore, Saturday night was an uneasy restless affair. Early Sunday morning the staff exchanged a flurry of texts and decided the storm was not heavy enough to cancel services but warranted for us to urge caution to parishioners. We had about fifty in attendance for both services. The sense of uncertainty made me anxious the whole morning before church.
However, during the first service a sense of peace came over me because I became aware of my annoyance at unpredictability. I chuckled a bit thinking this is really nothing. Life seems capricious and thus inconveniently annoying. That's what makes it so interesting.
 Snow is Beautiful Yet Dangerous
The moment I opened my front door the wintery neighborhood took me back a bit; so beautiful! As I was driving to church on I-66, Vivaldi's Winter from The Four Seasons played in my head. My eyes intermittently wandered onto tall snow-covered trees on the sides, reminding me of those in Ansel Adams' photos. Then my car slipped a bit because the pavement was still covered with slush. It was a beautiful slow trek slipping and sliding through I-66, on through Chain Bridge Road and into the Trinity lot. I was thankful to arrive safely with a heavy dose of respect for beauty all around me.
Resting is Difficult Work
Snow covered everything, life came to a standstill. Schools were closed and it was an unexpected day off. So why couldn't I enjoy it? Because the amount of work does not diminish. Even though it seems like a day off, I will have less time to tackle all the tasks before me. Thoughts like these swarmed my head the whole Monday morning and afternoon. Then finally around 5 p.m., I relented. I am just going to relax and enjoy this time with my family. Relaxing is really difficult.
With this past storm as a reflection point, I'm ready for the next one. Bring on the snow!